Frequently Asked Questions
Q: WHAT ARE HAIR EXTENSIONS?
A: They are artificial hair integrations which add length to human hair.
Hair Extensions are a method of adding commercial hair to natural hair. These methods are used to add volume, extend hair, add highlights or lowlights without the harshness of colouring your own hair, they can conceal thinning or hair loss in concentrated areas. Hair extensions mix in and move naturally with your own hair, making it difficult to tell you are wearing them. They can be worn continuously for up to 3 months before requiring maintenance.
Q: ARE HAIR EXTENSIONS SUITABLE FOR ME?
A: Hair extensions are perfect for most people. However, there could be factors, such as unsuitable current hair condition, hair loss, or hair damage that could prevent extensions from being an option. These factors will be discussed during your consultation
Q: HOW LONG DOES MY HAIR NEED TO BE?
A: It is recommended that your hair be 3-4 inches for thickening or volume and 4-5 inches for lengthening.
Q: WHAT TYPE OF HAIR DO YOU USE?
A: Elizabeth Clare uses only the finest 100% European Human Hair carefully chosen from around the world guaranteeing the most natural results integrating beautifully with every hair type and texture.
Since Elizabeth Clare is an independent hair extension specialist, she is not tied under the umbrella of any other company or brand of extensions. This allows her to buy hair directly from the suppliers, and ensures that she can always source the finest quality hair. Often hair extensions salons that are tied under the name of large hair extension brands have to use their hair and products in order to use their name, but the hair isn't always the best quality.
As Elizabeth uses superior quality hair it can be reused for multiple reapplications without deteriorating in quality, which significantly lowers the cost for subsequent applications since you do not need to keep paying for a completely new set of hair extensions.
Elizabeth has spent year's researching hair and ensures this is sourced ethically and naturally. Only the finest, cuticle correct hair is selected. Following the selection process, every strand of hair then undergoes a long and meticulous procedure which includes: washing, conditioning, drying, and finally being double-drawn into its precise lengths. This means that the cuticle remains intact and the hair is aligned correctly from root to tip.
Q: HOW ARE HAIR EXTENSIONS ATTACHED?
A: There are so many different methods of attaching hair extensions, ranging from fusion-sewing, braiding, gluing, heat clamps, Micro-Rings and clip in's. Elizabeth Clare's technique of choice is the Micro Lock method
Q: WHAT LENGTH OF HAIR DO YOU HAVE AVAILABLE?
Our hair is available in lengths from 6" – 22".  (Longer lengths available on request)
Q: IS YOUR HAIR SINGLE OR DOUBLE DRAWN HAIR?
A: All the hair is double drawn. This means each bundle of hair contains only hairs of the same length, and all the shorter hairs have been removed. For example, a bundle of 16 inch double drawn hair would contain only hairs which are 16 inches in length.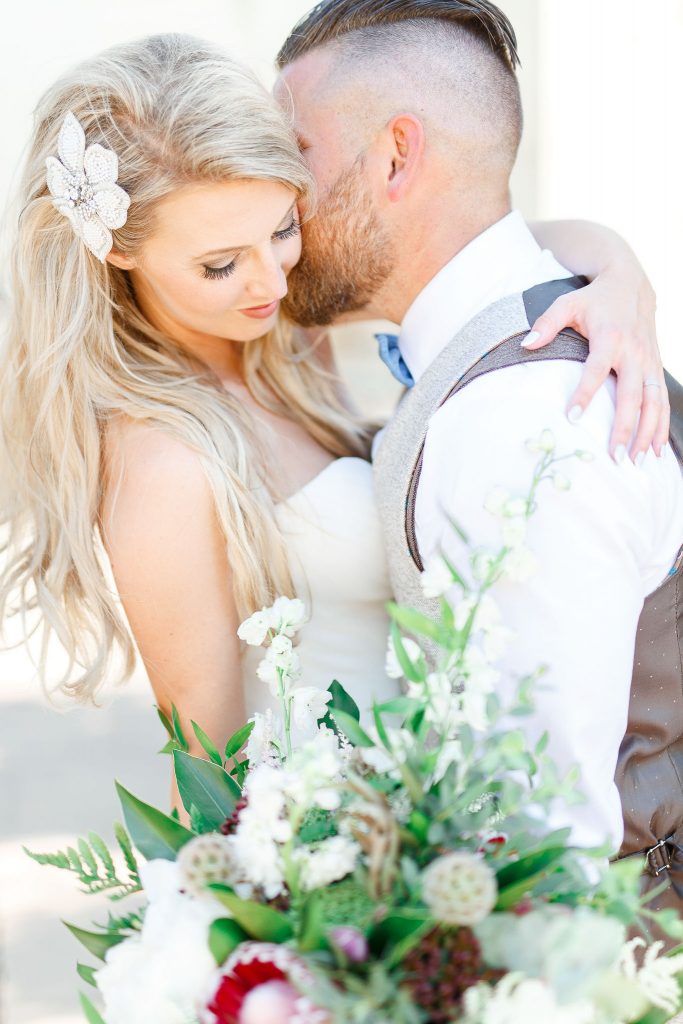 Q: WHAT ARE MICRO LOCK HAIR EXTENSIONS?
A: This system, like micro rings, requires no heat, no glue, no sewing or braiding and causes no stress or damage to your natural hair. and feels just as natural as your own hair and just as comfortable to wear! The Micro lock method is a hair extension system that has been carefully designed to preserve the integrity of your natural hair whilst adding volume and length without having to worry about the long term effects. Micro locks blends incredibly well with the natural hair virtually undetectable to the eye, available in a variety of sizes, lengths, colours and textures.
Q: WHATS THE DIFFERENCE BETWEEN MICRO LOCKS AND MICRO RINGS?
Elizabeth Clare uses tiny copper locks to attach the hair extensions. They are alternative to micro rings. The main difference is the size of the connections (rings) they are smaller flatter and lighter and extremely comfortable to wear. As they are smaller, they are great for very fine hair making them undetectable and also great for shorter hair as they can be placed higher up, making blending much easier. The other difference is the hair type used.
Q: HOW LONG WILL MICRO RING HAIR EXTENSIONS LAST?
A: The hair will last clients 9-12 months with maintenance. The hair extensions themselves can last up to 3 months before they need maintenance (re-fitting)
Q: CAN I KEEP THEM IN FOR MORE THAN 4 MONTHS?
A: No. You must have maintenance done on your hair extensions by the 4th month. As your hair sheds on a daily basis as part its natural process it is normal to loose up to 50 hairs a day. This combined with natural hair growth of around ½ inch per month can cause matting within the root area of the extension, as well as added weight pulling on the lengthened root area. If you were to keep them in for longer than 4 months you risk damage to your own hair.
Q: CAN I REUSE THE HAIR EXTENSIONS ONCE THEY HAVE BEEN REMOVED?
A: With the Micro Locks system it is possible to re-bond the tip and re-use them if they have been maintained well whilst being worn. The hair is 100% Human Remi Hair with cuticle sourced from Russia that has never been chemically processed. The hair is tangle free and has a minimum life span of 6 months but with appropriate home care can be worn for much longer! Each application can be worn for 3 months and then the hair may be re-used again!
Q: HOW NOTICEABLE WILL MY HAIR EXTENSIONS BE?
A: Micro lock hair extensions are designed to be undetectable to the naked eye. Elizabeths will ensure your hair blends incredibly well with the natural hair, all hair comes in a variety of sizes, lengths, colours and textures.
Q: HOW LONG DOES IT TAKE TO FIT MICRO LOCK HAIR EXTENSIONS?
A: The attachment process usually takes about 3 to 5 hours depending on the thickness of your existing hair and whether you opt for a half head or a full head of extensions.
Q: WILL THE WEIGHT OF THE MICRO LOCKS DAMAGE MY HAIR?
A: The short answer is No. For a healthy individual with no hair disease, hair fibre is  incredibly strong, about as strong as a piece of copper wire with the same diameter as the hair. Hair also has elastic properties. It can stretch up to 20% of its original length before breaking when it is dry and when it is wet it may stretch up to 50% before breaking.
So why does hair breaks if it is so strong? It depends on the speed at which the pulling force is applied to the hair. If you pull on hair slowly and steadily with gradual increasing force the hair will resist for quite some time before breaking. But if you apply sudden force and yank on the hair it will break. The tensile strength of the hair is reduced, the hair has no time to respond and stretch, which distributes the force over the length of the hair fibre, and the hair just snaps. So despite the apparent strength of hair, it will break if you brush, comb or pull too vigorously because this applies a sudden force to the hair. This is the reason why the removal of glued extensions damage hair and Micro Locks cannot.
Q: WHAT IS THE IMPACT OF GLUED EXTENSIONS ON MY HAIR?
A: While there are different types of glue, some stronger than others one analogy holds true. Putting glue in your hair is similar to putting gum in it. It's going to be hard to get out and even with the best removers some hairs will get pulled out leaving you with broken hair and damage.
Q: HOW DO YOU DECIDE ON MY HAIR COLOUR?
A: Elizabeth uses a colour wheel to classify the hair by colour. The lower the number on the scale, generally, the darker the colour. 1 denotes darkest black. These colours vary greatly from one manufacturer to another, and certain specialty hair suppliers also create their own signature patterns and colours. The highest number is the lightest colour, which is white or a very light coloured blond.
Q: CAN I CHOOSE THE TEXTURE OF MY HAIR?
A: Hair comes in Straight or with a wave
Q: IS THE HAIR EASY TO LOOK AFTER?
A: Elizabeth's hair extensions are very simple to look after, and in many ways you can treat them as you would your own real hair.
However, it is important that the home care guidelines are followed correctly in order for the hair extensions to sustain their longevity, to keep them in their best condition, and to prevent damage to your natural hair.
CAN I COLOUR MY HAIR?
Yes, however colouring hair contains elements that can damage the extension hair just like they would or can your natural hair. Even though our extensions are 100% human hair, the hair is not receiving nutrients from the scalp like your own natural hair. The more heat and chemicals you use on the hair extension the shorter the life span of the hair.
Treat your extensions with the same respect as you would with you own natural hair. Superior aftercare and regular maintenance will keep your hair feeling and looking great for longer.
Q: HOW SHOULD I WASH MY HAIR?
A: Before washing it is advised to brush your hair with a tangle teaser brush which will glide through your hair with no pulling, tugging or yanking. Properly washing your hair is absolutely necessary. On washing do not tip your hair over the bath keep your head up right.
Apply Shampoo starting at the roots and gradually work your way down to the ends, rinse thoroughly and apply conditioner starting at the mid-shaft of the hair to the ends, DO NOT lather the hair in big sweeping motions as this can cause tangling and slippage, wash the hair by gently combing through with your fingers, DO NOT let conditioner touch the roots of the hair as this could also encourage slippage. Professional deep moisturising shampoos and conditioners are recommended to be used on the hair, it must be a silicon and sulphate free range from the Professional Brands. Elizabeth recommends Redken, Pureology or Jpico kpak and Loreal Everpure.
Q: HOW SHOULD I DRY MY HAIR?
A: When drying be very careful when brushing the hair when wet, make sure you support the extensions hair by holding the bond, remove excess by grabbing the roots and squeezing down the ends. Do not sleep with wet hair extensions; ensure they are dry before you head for bed.
Q: CAN I USE HEAT ON MY NEW HAIR EXTENSIONS?
A: Heated Rollers, Straightening Irons, crimpers and tongs can all be used on the extensions although it is advisable to use a Heat Protection Spray to protect the both your hair and the extension hair. Gels & hairsprays etc may all be used but avoid the bonded areas as this may cause slippage.
Q: CAN I BRUSH MY HAIR AS NORMAL?
A: Remember your extensions are attached to your own natural hair, pulling too hard or mistreating your extensions can result in your own hair being pulled out. The only brushes you should use near to your extension bonds is an extension brush or tangle teaser. When brushing the extensions always hold the bonds, making sure no additional stress is put on the hair.
Q: CAN I SWIM WITH MY EXTENSIONS?
A: Yes you can swim with them.
Please be aware excess chlorine, pool chemicals and salt can cause the bonds to break down and disintegrate.
Elizabeth would personally advise any client to wait until after their holidays to have a new set of hair applied to achieve the longevity.
Q: WILL I LOOSE ANY HAIR IN-BETWEEN VISITS?
A: Bad haircare products and improper maintenance is the most common reason why hair extensions don't last. However, It is normal to experience a small amount of shedding and to loose the odd extension from time to time, but so long as the home care guidelines are adhered to this should be kept to a minimum.
Q: WHAT HAPPENS AT A MAINTENANCE APPOINTMENT?
A: During maintenance appointments Elizabeth will reapply any extensions that may have slid out, and replace all the bonds. She will also apply a 'top up' of hair, to fill out any areas if needed.